Rainwater Tanks
---
Traditionally rainwater tanks are associated with rural living - this however is changing in some urban areas as more people are becoming aware of the fact that rainwater is free. Installing these tanks (space permitting) can greatly reduce your household water bills.
Note: Although you can install a single rainwater tank the general practice today is to install a pair of tanks. One could be to act just as a back-up to the primary tank, or it could be mains fed from the town supply topping up the primary tank in the event of no rainfall. Also, most rainwater tanks today are fitted with a water pump, this gives improved water pressure at outlets and flexibility in tank location.
---
Why You Should Use Rainwater Tanks
Well, simply because you can save quite large amounts of water that you can then use in your home and garden.

By installing tanks you will safeguard your family in the event of public water restrictions
The use of previously collected water in low rainfall periods
Reduce the amount of water in the stormwater drains by collecting it in your tanks
Using collected rainwater saves you money - it's free
---
What Health Issues Should I Be Aware Of?
There are some heath issues you should be aware of when thinking about installing a water collection tank or tanks, and they are:

First ascertain whether your roof has any lead in it, or even in the paint, or any other toxic material like tar that may cause contamination


Contamination from bird life droppings, organic matter that has collected on the roof (dead insects, birds etc), or air pollution from local industrial plants or rural chemical spaying


Contamination by mosquito larvae in the water
These issues can be overcome so don't worry just be aware. The quality of the water has to be maintained and drinking water will have to meet the standards set by your health authority.
Rainwater Collection Tips
Here are a few tips to help you with rainwater collection.

A plumber or tank manufacturer should install the tank to ensure efficient operation of the system combined with easy maintenance
Confirm that the roof material is not toxic
Use gutter/spouting mesh
All opening cover by mosquito-proof mesh
The downpipe should be fitted with a 'First Flush Diverter*'
Additional sump box between the downpipe and tank can separate any sediment not previously diverted by the diverter pipe
Overflow to be connected to a suitable drain or irrigation system
The rainwater tank(s) should be aerated to prevent stagnation
Clean every few years to remove any accumulated sediment
If you are going to install a large tank then you may need to consult with a builder or engineer concerning structural support
*First Flush Diverter is a branch pipe connected to the tank supply pipe before the tank. The purpose of this pipe is to collect and divert away the first 20 - 25 litres of rainfall that may contain dirt and dust. This diverter pipe usually has a float that closes off the water to it when it is full. The pipe is emptied via a slow drip system.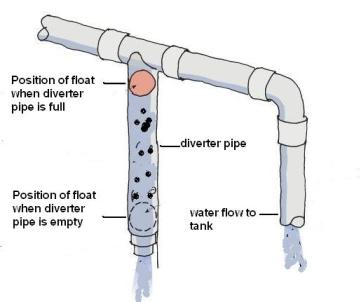 First flush diverter pipe
Click here to visit online store.
---
Home Heat Loss Heat Gain Radiant Heat Central Heating Radiators UFH 
Heat Pumps GSHP's WSHP's ASHP's Solar Heating PV Systems Boilers 
Water Heaters Insulation Elec-Heaters
Terms of Use      |     Privacy     |   Contact Us